Nikki Bool is Puppy Perfect's founder, and head trainer. As a professional puppy trainer Nikki has helped hundreds of puppy owners, and their puppies.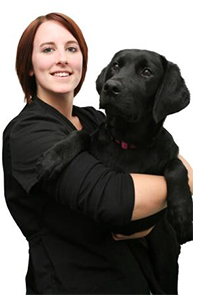 Nikki graduated in 2005 with a degree in Animal Behaviour and Psychology.
Before specialising in puppy training, Nikki worked with the Kennel Club, and was a registered veterinary nurse for 8 years, treating and caring for puppies (and other animals) every day. She has helped and worked with literally hundreds of puppy owners, and their pets, and anyone who's ever worked with her will know how much she enjoys it.
Her hobby is competitive obedience, where she works her Labradors and has competed twice at Crufts, and has even won once!
Nikki has an instinctive understanding of puppy behaviour, and knows how to communicate her insight wonderfully. If you've got questions, she loves nothing more than a cup of tea and a chat so feel free!
Take a look at our feedback page to see the great things people have to say about her, and Puppy Perfect.